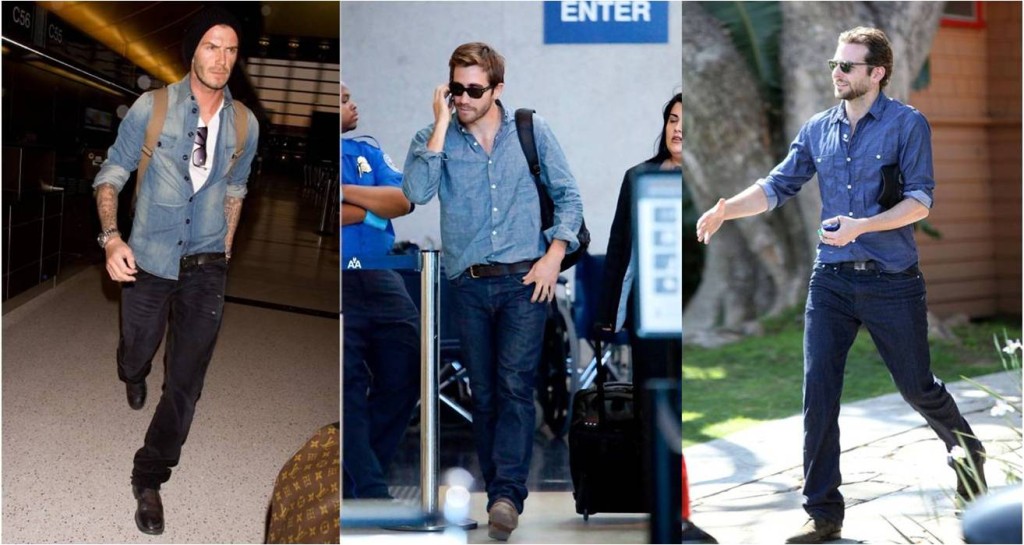 TheFashionForMen – Denim has modified into various types of clothing. In the past, this material only used for trousers or shorts only. But along with the fashion's development, designer changed the image of jeans into other materials which can be used as shirts, jackets, even accessories like hats. Throughout 2014, shirt which made from denim material back into the trend of the world, where top artists were wearing. We can see a few photos from paparazzi show the model's elegance with denim shirt. Denim is no longer showing the fierce and tough guy like a Kansas's cowboy movie.
You can combine this shirt with various things, ranging from dress, jumpsuit, chino trousers and jeans. Do not think your tops that made from denim should be combined with jeans too. Try to combine denim shirt with leather jackets. The appearance will impress casual. It is a perfect way to hang out or going to a home party. Nothing wrong with wearing a costume like that when going to college, because you seem good looking but still polite. But, do not ever using that in office. Because everybody knew, the office has its rules.
But when we blend denim shirt with the right partner, we have to note a few things like the following:
Consider your denim shirt size. As when choosing a shirt as usual, then you also have to choose a denim shirt which fit with your body.
Do not combine denim shirt with formal slacks.
The suit is only used for the formal event, so avoid combining suit with denim shirt.
For materials, choose a denim shirt that made of light materials. In addition to more convenient, your top should not look heavier than your trousers.
The most common mix of denim shirt is using jeans. The impression given is so strong that you are a real cowboy. For best results, wear trousers with contrast color. So you still look neat and good looking. The color differences also show a more balanced body portion. For you who are fat, mix bright color shirt-denim with a dark color trousers.