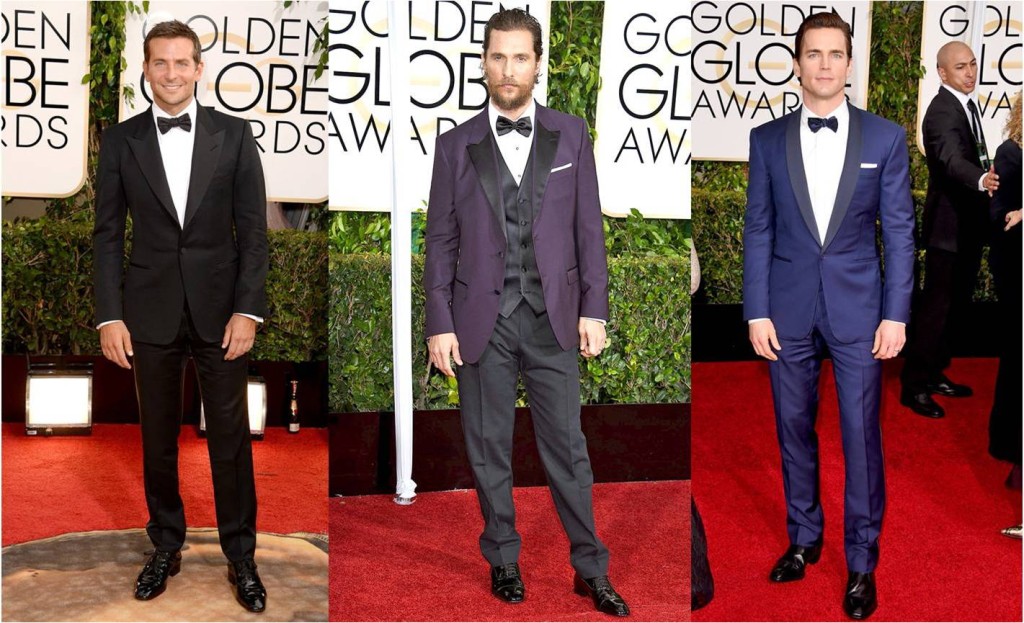 TheFashionForMen – Golden Globe Awards were held for the 72nd time on Sunday, January 11, 2015. This event was broadcast live by NBC and watched by tens of millions of viewers around the world. In addition to the announcement of the winner of the main event of each nomination, the moment when celebrities arrived at the red carpet event is always exciting and eagerly awaited by millions of viewers.
Red carpet becomes showcase the work of fashion designers who make these celebrities look stunning or vice versa. There will be a list of best and worst dressed celebrities. This year some brave man celebrities using tuxedo that far from conventional. Matt Bomer's appearances with a tuxedo suit from Ralph Lauren Black Label blue steal the show, as well as actor Adrien Greiner and Matthew McConaughey who chose unique purple tuxedo. Apparently not finished until there, we can see Maroon 5 vocalist and John Legend in their navy blue tuxedo. Tinge elegant colors be the right choice for an inspiring contemporary look. George Clooney, Benedict Cumberbatch, Channing Tatum and Jeremy Renner also show that classic look of black tuxedo will remain the main option that maximizes your formal look.
By the way, do you know the tuxedo's history? Well, men should be familiar with tuxedo. This outfit was used to attend a party, formal events and weddings. Time goes by, the more widespread use of this suit used as an alternative style of dress of the men. So they do not need to wait for the wedding day to be able to wear it. In a typical day they can wear the suit on formal occasions. Why not rent a tux for any formal occasions that you have upcoming!
But before choosing, we should discuss about the model of tuxedo which is known:
Cutaway or Morning Coat – These models are often found in the UK. Generally this model is in the form of a vest and gray tie, striped pants and a gray hat. This setting should only be worn in the daytime.
Tail Coat or White Tie – This model is identical to the black color combined with a bow tie and a white vest.
Stroller Coat – Commonly used in the party during the day. The color options are black and gray striped trousers can be combined with matching color.
Black Tie – This type is used to arrive at a formal event in the evening. With a suit and a black or dark blue pants, the color that is used shinier than the daily coat you wore.
One thing that is important in the selection of tuxedo is the material. For a tropical climate area, is tend to choose lightweight cotton material and reduce heat. Comfort feeling when you wearing this is the key. Thus the appearance looks more leverage.
This last point is to note how to wear tuxedo. At first glance, the use of this coat looks so simple. But in fact, there are some specific tips in wearing it. we should be able to see the cuff from the outside, and will better by using cufflinks. Then the length of the pants should touch the back of the heel.