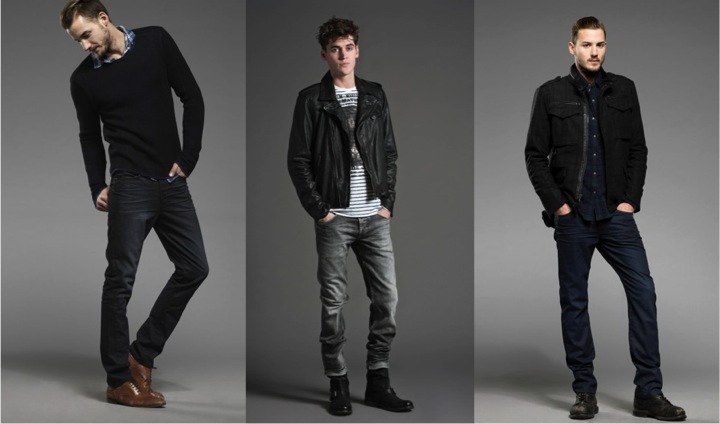 TheFashionForMen – When talking about fashion, men's jeans are all the rage now in many parts of the world. Perhaps the design of the jeans has contributed to their popularity but there is much more to the jeans than just their design. So, why are jeans for men so fashionable?
Flexibility.
Men find a lot of flexibility in jeans. Some jeans trousers are designed in such a way that they can also be worn inside out. When worn this way, the trousers appears as if they are made of ordinary cotton material.This allows men to wear such trousers for occasions where jeans clothes are forbidden.
Some jeans for men are fairly dirt resistant.
Many men, especially young people, prefer jeans clothes because it is not quite easy to observe dirt or dust on such jeans. With a jeans trouser, for example, a man can choose to wipe out the dirt instead of washing the trouser. Such a trouser can the be worn again and people will not easily realize that the trouser has not been washed.
No need to iron!
This is a fact that that makes many men to prefer jeans clothes to clothes made of ordinary cotton material. With ordinary cotton clothes, one has to iron quite often. However, with jeans clothes, you do not need to worry about the ironing. If you maintain your jeans clothes well, you do not need to iron them. This helps you to save energy and time which would have been used to iron the clothes.
Long durability.
Needless to say, jeans clothes are sufficiently durable. For instance, it takes a couple of years before a jeans trouser is worn out. This is in sharp contrast with clothes made of ordinary cotton. Generally, most jeans clothes are sufficiently resistant to wear and tear. This aspects suits the trousers for men who often engage themselves in vigorous physical activity.
A variety of designs.
Perhaps you are the type of man that hates the monotony of wearing similar clothes. Jeans clothes have may designs which are used to distinguish them. The variety of design favors any man who is consistently looking for something new, something that is not too common in his residence. This also means that you can basically wear jeans with anything. From running shoes like Vessi footwear to boots like Timberlands, the style works with anything and everything!
Jeans clothes for men are 'universal'.
Usually, some people associate some forms of dressing to a certain category of people, usually categorized by age. However, jeans clothes for men are worn by teenagers, the youth and some relatively old men. In fact, even some relatively old men also fit very nicely when dressed in jeans clothes.
So, should I prefer jeans clothes to clothes made of ordinary materials?
The choice of the type of clothes to buy largely depends on one's tastes and preferences. However, if you are a man who likes fashion, jeans would arguably be the best option for you.