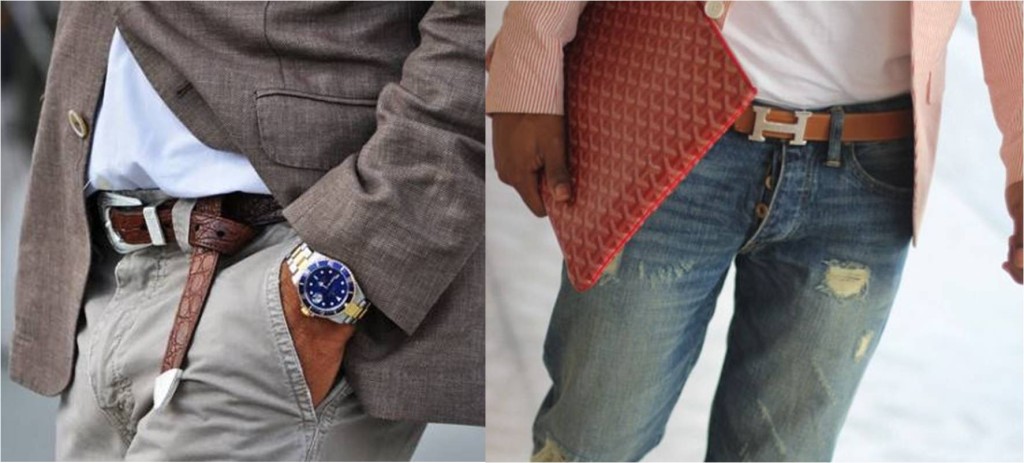 TheFashionForMen – We're sure that most of you would have at least one piece girdle or belt in the wardrobe. Indeed, belts is a mandatory accessory for men. But the thing is, you can not wear all kind of belt, it depends on the situations. Actually there are two types of men's belts that you should have: formal and casual.
Formal classic. Men's belts that made from leather, has a classic impression. This is the right choice to wear during your formal style. Want to add a bit of a modern twist on your formal appearance? Wear a belt with a textured leather. For color, you should choose a black or dark brown.
Playing with Casual Style. Unlike the formal belts, for your casual style freer play either from the color selection and model. Starting with the design of the belt webbing to touch the print on the strap material combined with various forms of head belt. You are also more free to choose materials, such as leather, canvas, or fabric.
And here is the basic guide of men's belts
The Color – color selection on the belt is vital, for example Black. With black belts, it is suitable with any color outfit without exception, therefore the belt with black color can be called a universal color. You have adjust to the color of your shoes and pants.
Buckle Belts – Head of the belt is crucial your appearance, therefore you should wisely choose the head belt, our suggestion here choose the head belt fairly simple example initials letters or forms of brand names such as LV, Hermes, or Calvin Klein
Materials – Choose belt with quality materials. Nylon, leather or canvas is the material for a belt that you can choose. Men's belts with good quality materials will certainly provide a very long endurance, and it look exclusive.
You can do this to your men's belts:
Adjust the color of your belt with your shoes color. If you decide to wear a shiny black belt, you should also wear shoes with a shiny black color. FYI, if you wearing a tie, the maximum length of your tie is in your belt. Regular tie of course, not a bow tie.
Choose a belt with the size of one level above your pants size.
Always hanging your belt in a place that not exposed to direct sunlight. It will maintain the shape and quality of the skin.
But Do Not Do this!
Wearing belts on pants that do not have holes belt.
Wearing a belt with oversized head belt. Trust me, this is only suitable apply if you are a cowboy.
Perforate your own belt because the holes provided there is no right for you. If this happens, there are two options for you: buy new greater belts or visit the gym that nearest with you and get started today!