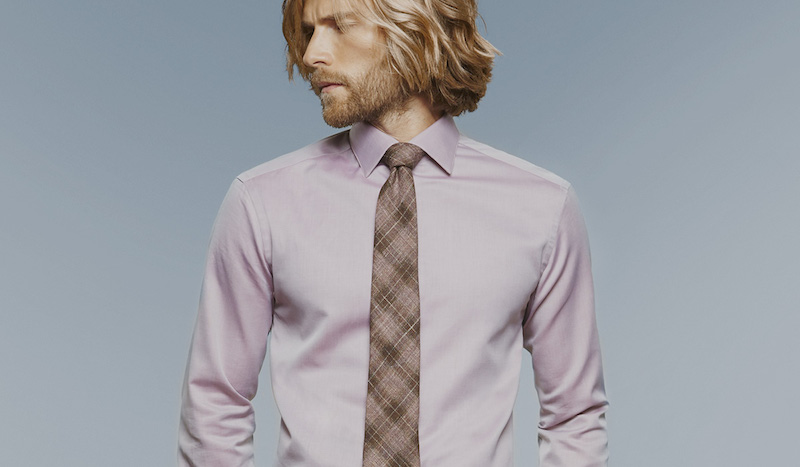 The Fashion For Men – Even the most expensive men's dress shirt will looks bad if you get the wrong style of its part. If you want to be the real gentleman, you have to understand quality men's dress shirt components. This article is the advanced method from basic dress shirt guidelines before.
History
– In the first time of human's outfit, people worn animal skin to warm their body. After that historical moment, people began to wear the first shirt in the 18th dynasty of ancient Egypt.
– At the end of the Middle Ages, the shirt get its popularity. During 14th century, neckband and cuff were developed to support the shirt's style by Normans. And by the end of the 15th century, fabrics variances were introduced when making shirt like wool, linen, and silk.
– Shirt began to be embroidered, laced, and frilled in the 16th century. By the end of century, the mark of the aristocracy was low neckline so that the shirt showed across the chest.
– At the beginning of the 17th century, the doublet had become so short. But it change in 1666 when new men's style was initiated. It means long waistcoat which covered up most of the shirt.
– Early 1800s, stylish person named George Bryan "Beau" Brummel stressed the importance of personal cleanliness as fashionable virtue. He set ruffled shirt for both day and evening wear as the mode in 1806.
Materials
We will let you know that the 1st dress shirts material were linen. But the most popular material for dress shirts are 100% cotton. Unfortunately, this material wrinkle more than a blend of poly and cotton. But in the other hand, it breathes, holds dye better and feels luxurious.
The Components
1. Collars
Dress shirt has special collars, which is "dress shirt collar". This collars style different with sport style collar style. Dress shirt collar consist of some various style, and you have to choose the best that suit your face. You can choose between Button Down, Hidden Button Down, English Spread, Straight or Point, Pin, Tab collars, and Curved collar. How to wear it? Read the fit tips.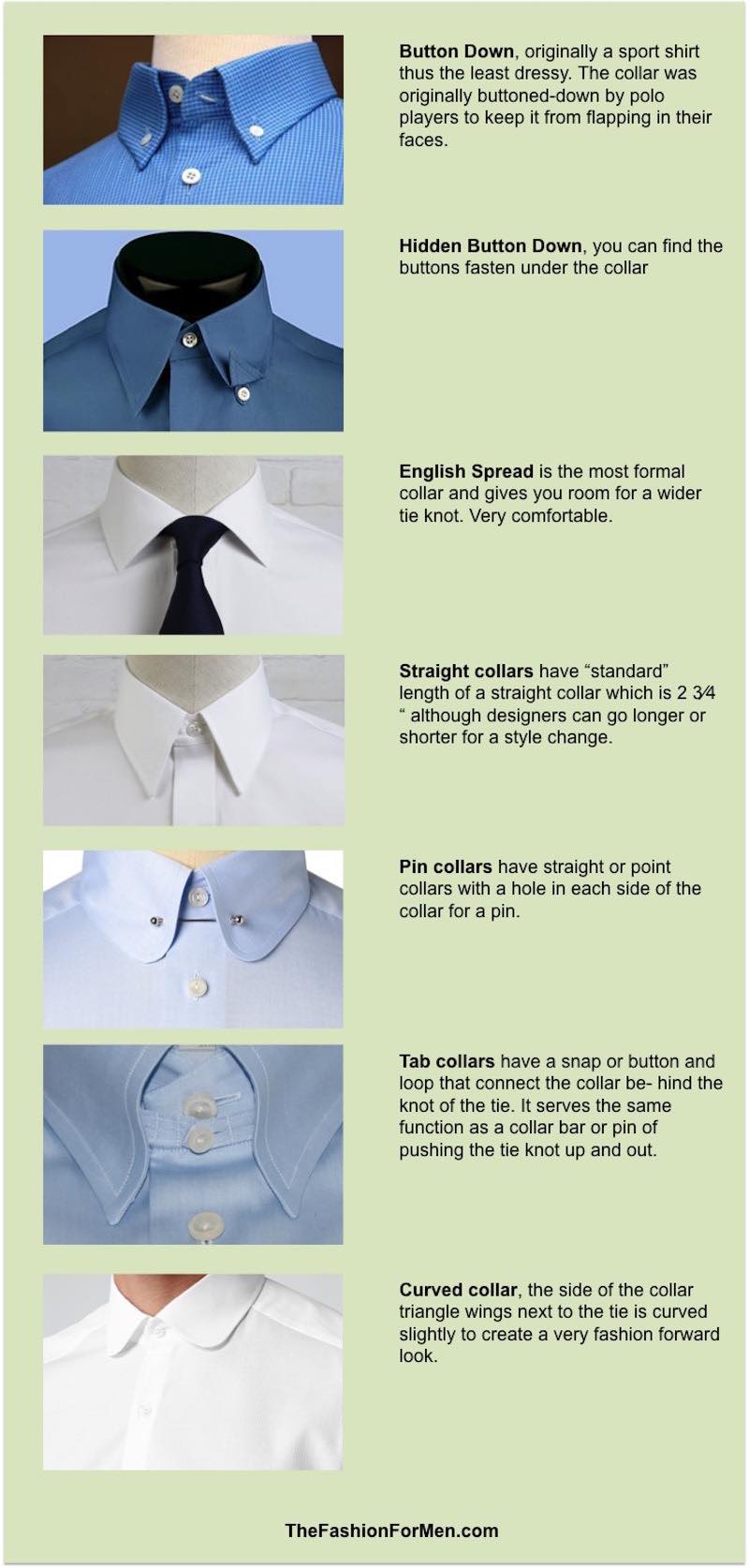 2. Split Yoke
If you see the strip of material sewn across the shoulders to attach the front to the back of the shirt, thats a yoke. Instead of one solid piece of material, the yoke should be two pieces with a seam or split in the center. The yoke has special function to control shirt position and drape the fronts, sleeve, and back of the shirt.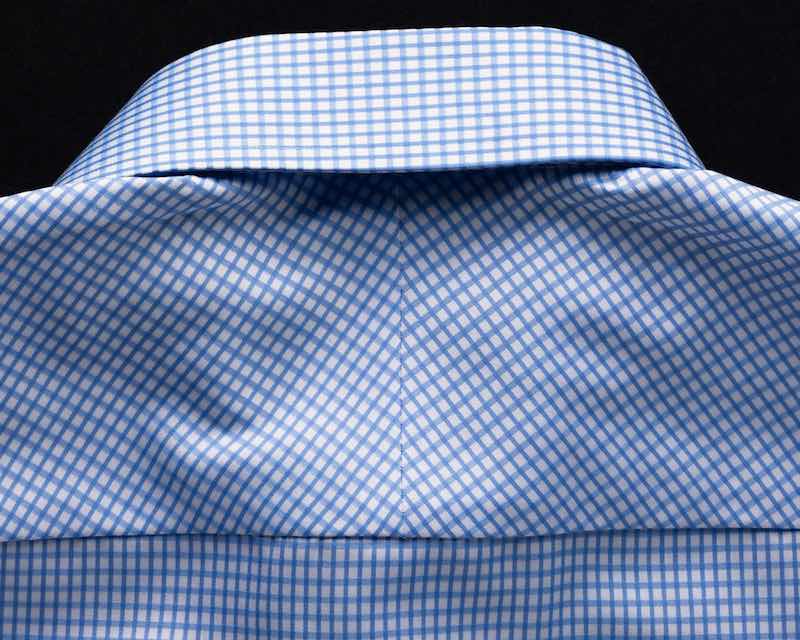 3. Single needle tailoring
When gentleman expect more durable seam, they need single-needle tailoring for their quality shirt. Single needle tailoring made by sewn along one side then on the reserve by the same needle to make one line of thread. This technique creates more refined, more durable, and smoother seam.
4. Pattern
Quality shirt has pattern fabric that its design elements meet the seams perfectly. If you have stripe shirt, you can tell that your shirt is good if the stripes on the sleeve align with those on the shoulder.
5. Front Placket
Front placket is a shirt part where the buttonholes are placed, it should be different piece of cloth sewn to the front. If the placket is just part of the shirt body folded over, it is called French Front. Front placket is the best choice, because gives the shirt a definite centerline.

6. Buttons
Quality shirt always use mother-of-pearl button, never plastic. MOP buttons are more durable than plastic buttons and pleasing the eye with a rich from pearly sheen.
7. Sleeves
Well, men's dress shirts have to long sleeved. We have discussed that never wear a short sleeve shirt with tie. Because short sleeve shirts are sport shirt and perceived as lower class apparel. Read also: Shirt Etiquette: Roll Up Your Shirt Sleeves.
8. Cuffs
This important part should be sewn in separate piece of fabric. You can see two types of cuffs, which is barrel and French cuff. For french cuff, you have to wear cufflinks. For barrel cuff, if you find two buttons style, just choose one button that best for you.
9. Pockets
Bespoke men's dress shirt has NO breast pocket. Gentleman never add that pocket, and you have to put your pen, glasses or others stuff you need inside suit jacket pocket. So that's why you won't need that pocket anymore.