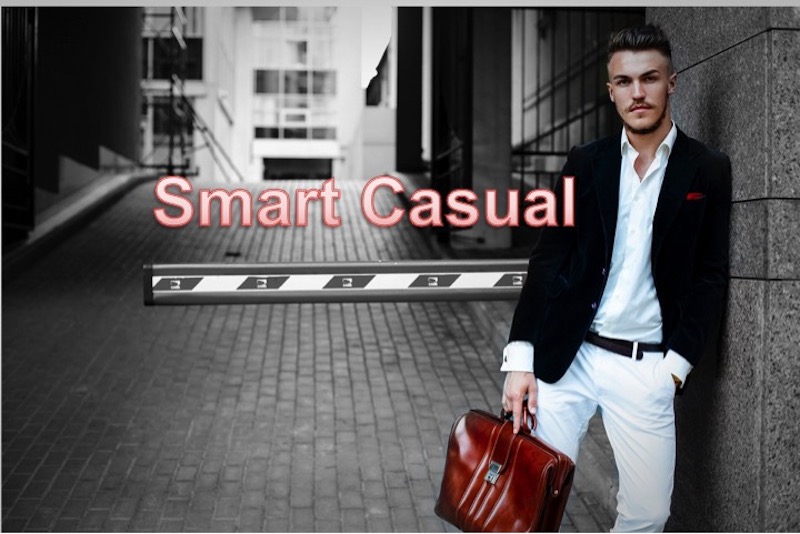 The Fashion For Men – Smart casual- such an ambiguously-defined term for a non-specific style of dress. No wonder it leaves a lot of men confused. Can you wear slacks? Shorts? Is a blazer okay or is it too formal? Exactly what ratio of smart to casual is acceptable?
The thing is, when it comes to the smart casual dress code, there are no hard-and-fast rules. However, the clue is in the name itself. The term implies the mixing of the formal and the informal into one aesthetically-pleasing whole. Blazers with chinos, button down collared shirts paired with denim pants, tailored and structured shorts with polos- you get the idea.
Smart > Casual
A word of caution though, it's best to not go overboard with the "casual" part of the style equation. "Smart" should always take precedence- as the saying goes, it's better to be overdressed than to be underdressed. Don't go into a smart casual event looking like as if you've just rolled out of bed or have been bumming around on the beach for hours.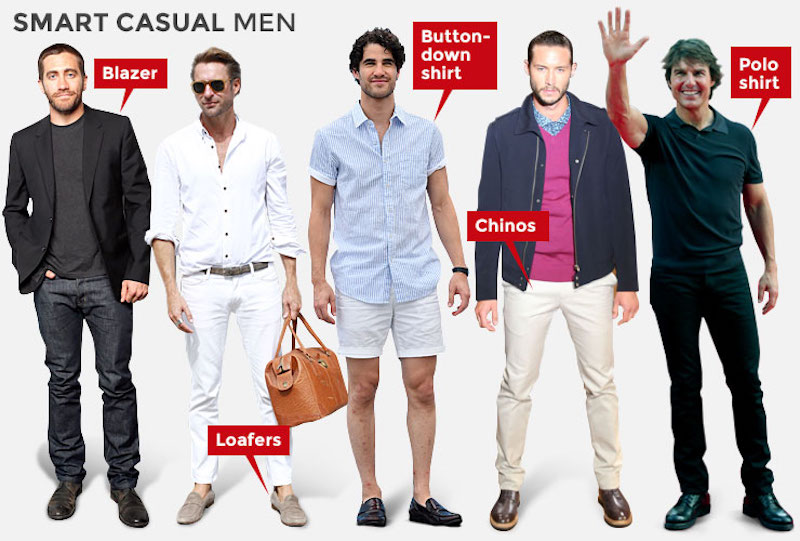 Smart Casual Dress Code
With that said, here are some of the staples that you need to stock up on if you want to build a respectable smart casual wardrobe:
1. Single-color, collared polos
Keep most of your polo shirts in a traditional hue like light blue or tan. If you're feeling a bit adventurous, you can go for patterned tops (like plaids, for example), however you do need to balance it out with more subdued pieces elsewhere so that your outfit won't be too over-the-top.
2. Plain basic T-shirts
T-shirts can't be actually considered smart casual wear by themselves. However, if paired with a sharp blazer or jacket, they can really become an integral part of your wardrobe. A word of advice though: no graphic tees, no statement T-shirts (i.e. those with witty statements on front), lest you wander too far into casual nerd/geeky territory. Only plain basic ones (preferably with round neck collars) in neutral colors will do.
3. Blazers and Jackets
These are practically a must-have; jackets and blazers instantly add class and individuality to your look. To get started, buy jackets and blazers that are in neutral colors, so that you can easily mix and match them with other pieces in your wardrobe.
4. Trousers
The look that we're going for is "smart casual." In other words, overly tailored slacks and dress pants are a big no-no (since they would look too formal and too office-wear). For a more relaxed look, you can go for chinos and dark-colored jeans with a slim fit.
5. Shorts
It's easy to go wrong with shorts. However, if you really want to wear a pair, tailored and slim-fitted, structured shorts still have that "formal" look without venturing too far out in the too-casual territory.
6. Shoes
Trainers and sneakers are out. It's best to stick to the classics like loafers, Oxfords, and boat shoes that you can easily pair up with other pieces in your wardrobe.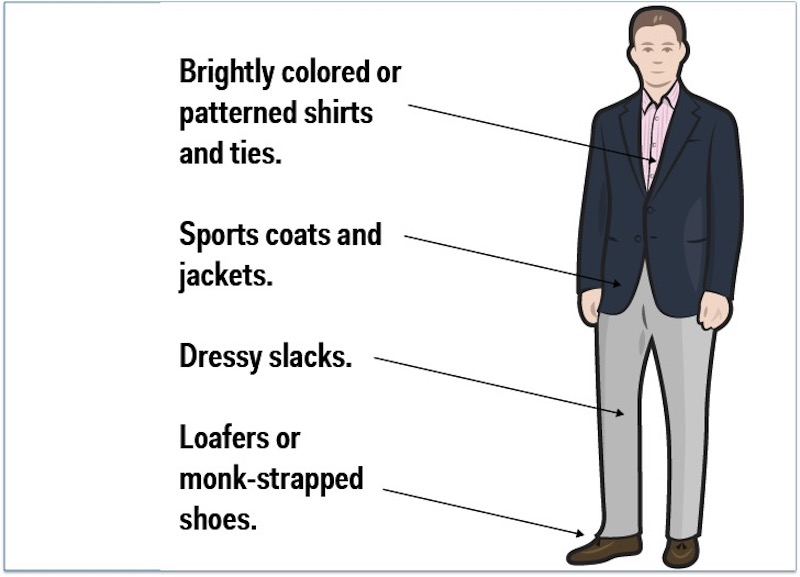 Conclusion
We know that it's hard to pinpoint the exact meaning of the term "smart casual," but we do hope that this article will give you a basic idea of the kinds of clothing items that you need to stock up on.
The secret to nailing that "smart casual" look is comfortability. Your outfit should be something that you can comfortably move around in but still look elegant and classy at the same time. If you feel great in your clothes, chances are, you look great in them too.