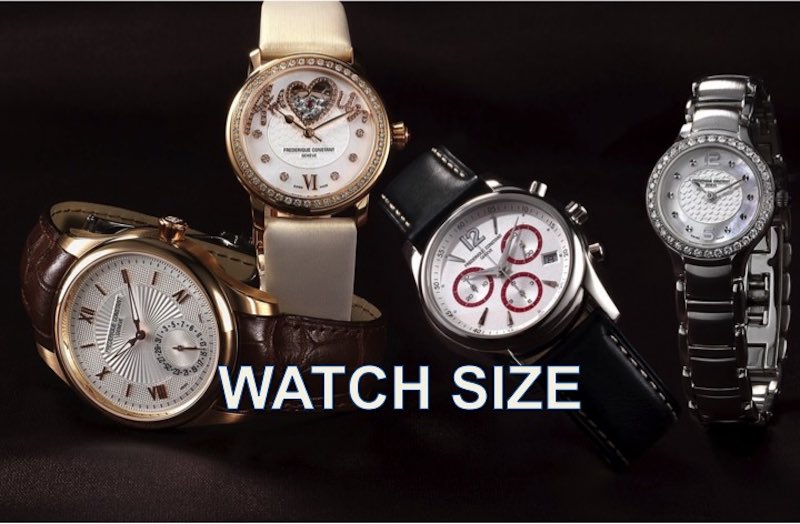 The Fashion For Men – A Watch not only reflects the personality of a person, but it also acts as a time showing gadget, and a fashion accessory revealing both style and status of that person. Luxury watches are well known high-end accessories. However, their performance and charming appearance can attract any individual.
These timepieces come in a wide variety of sizes, styles, and designs. Presenting below are the tips that can guide you select the right watch size in quick time.
5 Most Important Tips To Select The Right Watch Size
1. Case diameter
There is much debate around the ideal width of a watch case. In recent, the average diameter of a case has increased for all sexes, both men and women. Some individual believe that certain sizes are too small while others are too large, but the perfect size for men watches is the one that you most desire and feel more comfortable wearing.
A midsize watch for men used to range between 34mm-38mm. Men's watch size changes with types, but an average size for men's watch is 36mm-39mm. Sports watch range from 40mm-43mm in diameter and men's XL watch goes beyond 45mm.
Today, watches with large cases are in style plus many fashion timepieces have adopted a large case. Therefore, if you're going for a vintage watch, it'll be difficult to get one with a small case.
2. Case thickness
In the past, thinner watches meant a better as well as more refined complication. That's why many luxury fashion watches are lightweight and thin compared to lower-priced models.
Today, they are becoming larger for aesthetic desires. As the case diameter has increased, so does the case thickness. Most of the large watches are thick and bulky, so you'll want to research this dimension on the watch you will consider buying. Also, you should determine the size you'll feel more comfortable wearing.
Case thickness is essential for both aesthetic and practical purposes and most of the times we overlook this feature. If you're looking for a watch to conform to your suit, then you must be sure the sleeves fits over the watch and does not stick out.
3. Lugs
The lugs attach a case to the strap or bracelet and aren't factored into your watch's case diameter. Lugs will always stick out farther compared to the case diameter, so when you measure wrist, try to determine the size diameter that looks best, and then leave room for lugs.
You don't want the lugs to extend beyond your wrist. This implies that your watch is way too large for the arm.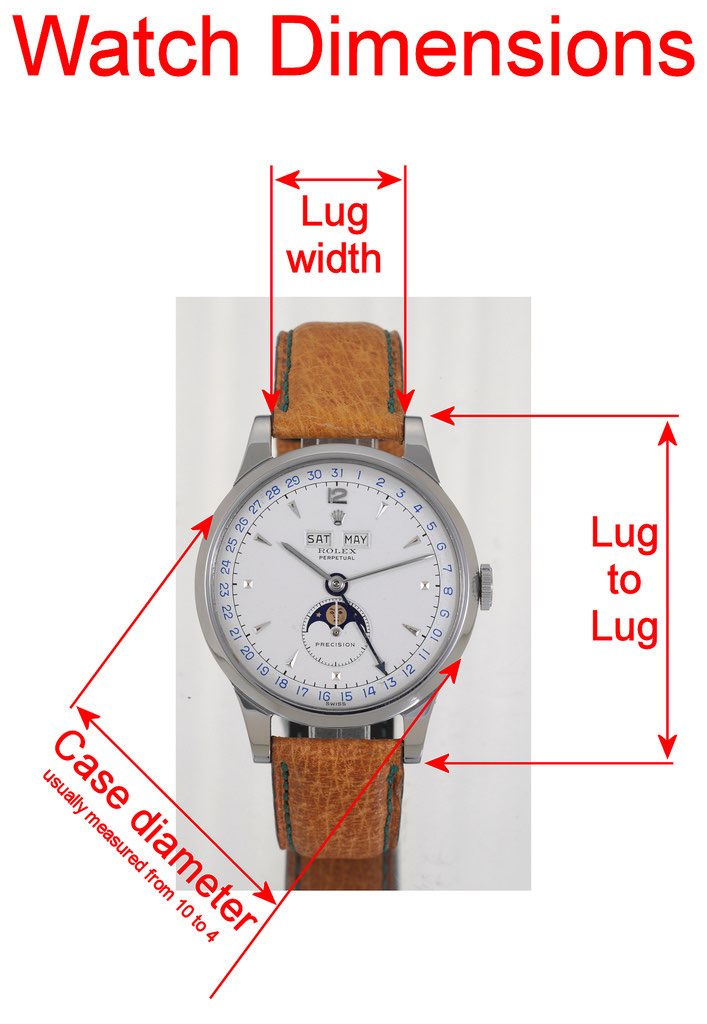 4. Bracelets and straps
Sizing a watch to fit appropriately is not a matter of concern unless your wrist is large. Most of the men's watches range between 7.5″-8″. In case you have a synthetic, leather, or any other kind of a non-metal bracelet, then you can adjust every time you wear a watch.
For the metal bracelet, you can have a watch dealer or jeweler remove the links for you.
5. Watch details
Lastly, you should examine the size of components on a watch. Here, you should notice the numerals, hours, and the second hands. If you have a 38mm- 40mm watch and the numerals are huge, it'll look unbalanced. However, an essential thing to notice is how watch components play into each other.
Conclusion
The width of your bracelet and watch strap will depend on the lungs and the case diameter. Usually, the larger the case diameter is, the far apart the lugs are, and the wider the band is. You have minimal flexibility when choosing the width of your band.
However, you might be able to change its style. If you need to switch the band, then you'll have to determine the distance between lugs to find the appropriate size.