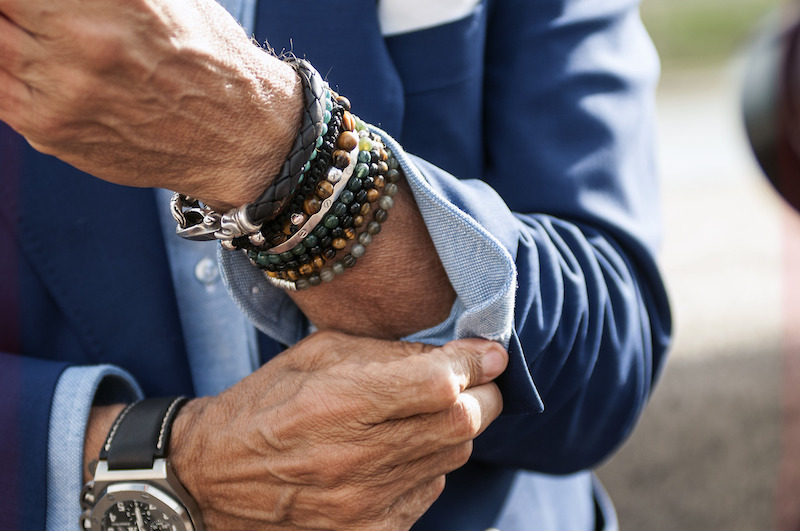 The Fashion For Men – When you hear the word "bracelet," images of women's bangles, precious stones, and metal charms usually pop up in your head. When it comes to adorning the wrist, men's jewelry are usually limited to wristwatches and cuff links on their dress shirts.
Bracelets for men may seem uncommon but they're actually becoming more and more popular
today. And just like any other piece of jewelry, though most of the time they don't serve a function, they showcase one's personality and style.
If you're itching to don bracelets but don't know where to begin, here are our top tips to finding the perfect bracelets for men and how to wear them:
The Types of Bracelets for Men to Wear
The types of bracelets to wear depends on your style, the clothes you're wearing, and of course, the occasion. Before you head to the stores and start rummaging through thousands of different bracelet
choices, you have to equip yourself with the basic knowledge first.
Here are the types of bracelets for men to choose from:
1. Metal and Stone Bracelets
These bracelets are usually broad metal bracelets that can range from thin to thick to elaborate to very plain, simple designs.
Broad metal bracelets are perfect to wear with suits since they give off that formal and masculine appeal. Stick to silver, platinum, or white gold since they have a neutral tone and go with any suit color. One can create a more appealing look by wearing custom name bracelets engraved with their name tag. Such custom name bracelets can also boost self-confidence.
Also, elaborate metal bracelets with stones and engravings are more commonly worn by men in creative fields. This can be the reason why men's jewelry and accessory stores tend to order such bracelets from a reputed Silver Jewelry Factory that can maintain consistency in the jewelry making process. That said, silver bracelets can go with almost all types of outfits. Therefore, unless you're a famous artist or musician, it's best to stick with the basic, silver or a metal bracelet to accessorize your basic suit and tie.
2. Leather Bracelets
Thin leather bracelets in earth tones are perfect for any outfit – be it formal or casual, suit and tie or jeans and t-shirt. Leather always gives off that rebellious appeal and it's great to wear if you
want to add a touch of personality to an otherwise boring business suit.
3. Rope or String
These bracelets express adventure and being free-spirited. If you stack them up on your wrist, you're telling the world you are carefree and has traveled to exotic places around the world. They can also be
appropriate to wear with semi formal outfits such as a dress shirt with trousers, or a dress shirt with jeans.
If stacking them up seems cheesy and tacky but you still want to wear them, you can wear one
piece of string or rope bracelet with your wristwatch.
4. Bead Bracelets
Buddha beads blew up in popularity in the late 90's as celebrities were embracing spirituality in popular culture. Today, bead bracelets may mean something symbolic or spiritual but many of them are also worn just for fashion's sake.
You can wear them on their own or stacked up with other bracelets but they're more ideal to wear with a casual outfit than with a suit and tie.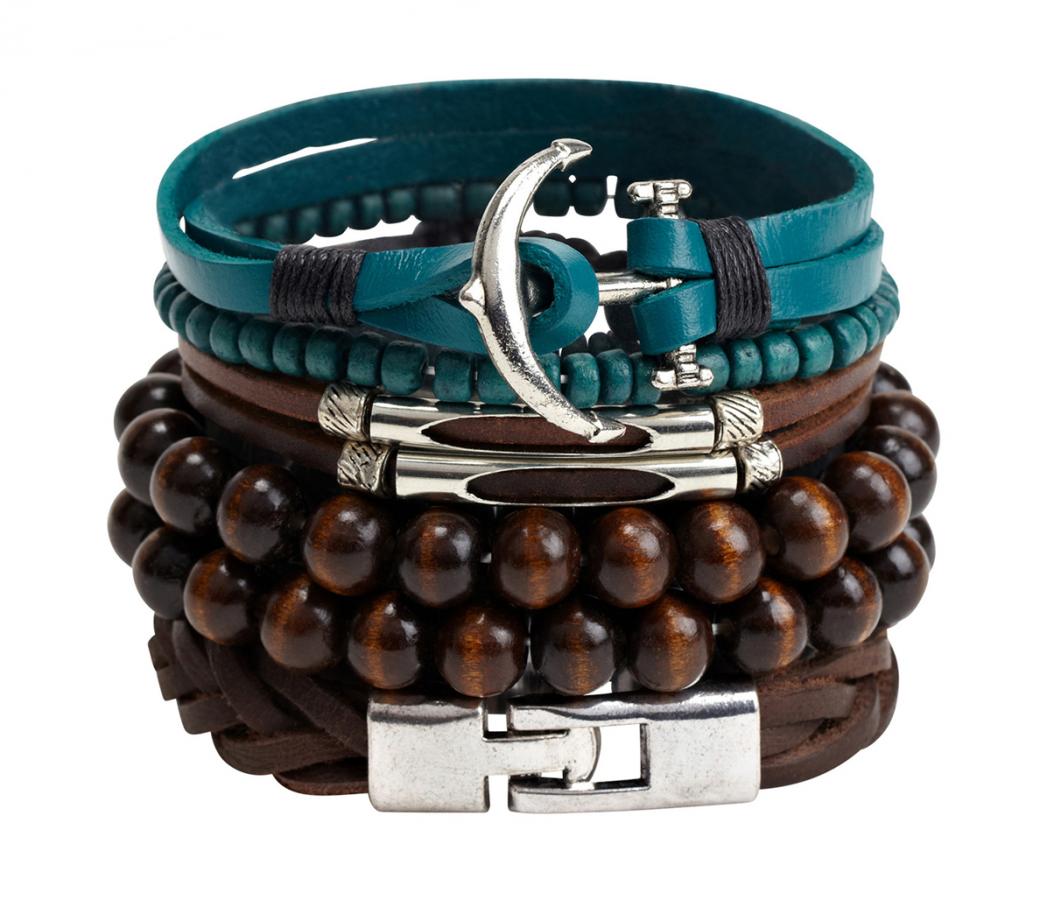 How to Wear Bracelets
If you've already chosen the perfect bracelet for you based on these materials and styles, it's time you know the basics of how to actually wear them. Here are some tips:
1. Balance Them Out
If you want to wear more than one bracelet, it's best that you wear them on both wrists rather than stacking them up on one wrist. Say you want to wear 6 different bracelets – wear 4 on one wrist and 2 on the other to balance the look.
2. Wear a Wristwatch on Your Dominant Hand and Bracelets on the Other
Wristwatches should always be worn on your dominant hand and if you want to stack up on bracelets, it's safe to wear them on the other rather than piling all of your accessories on one hand.
3. Never Wear Matching Bracelets on Both Wrists
Wearing matching bracelets on both hands should be a definite No-No. Bracelets on men should not look like you tried too hard. Wearing them should be like wearing boots or a leather jacket – they
give off a cool and nonchalant vibe that spells out effortless.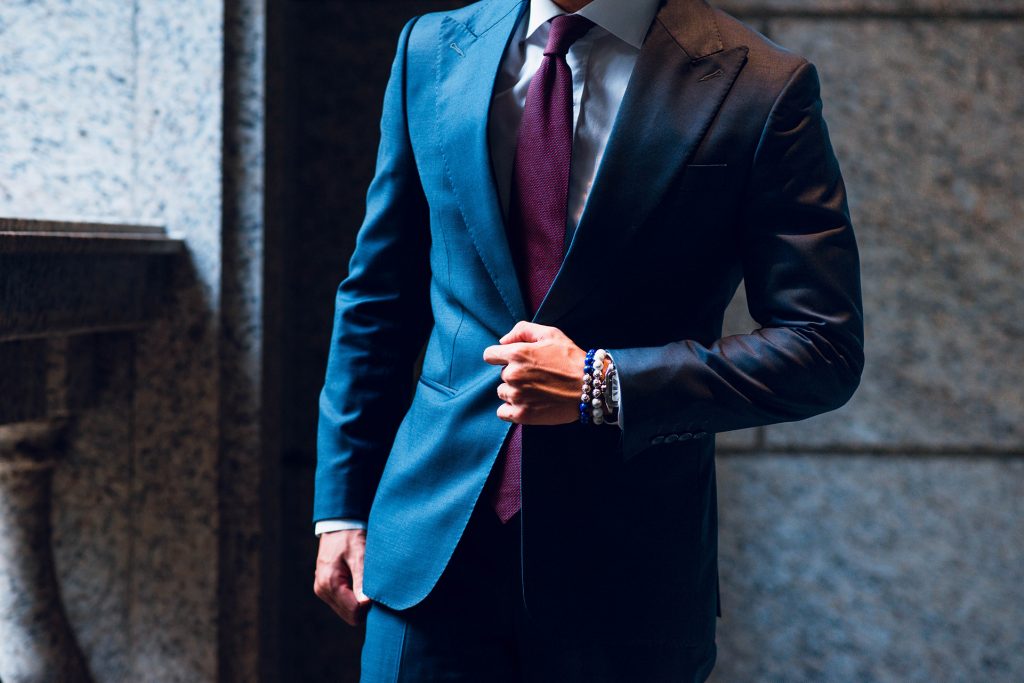 Things to Consider When Finding the Perfect Bracelet for You
1. Consider Your Style
If your daily workings revolve around the corporate world, it's safe to say your bracelet of choice should be the stone bracelet or the earth tone thin leather bracelet. Keeping things formal with a
little bit of edge fits your style the most.
If you have a non-conventional lifestyle, then your bracelet of choice can be limitless – you can wear bead bracelets, rope bracelets, even rubber "baller" bracelets. But always remember the basic rules of wearing them so you still look well put-together and stylish.
2. Consider Your Size
Your size doesn't mean your overall body structure but the size of your arms, wrists, and hands. if you wear a very thin bracelet and you have small wrists, then your wrists will look even smaller. If you have
big wrists and you wear big, chunky, gold chains, then you'll look even bigger.
Look for the perfect proportion in choosing your bracelets. And just like your clothes or wristwatch, bracelets that fit on your wrist should be the standard size. They shouldn't go up and down your arm like you borrowed them from someone else – they should fit snugly but not too tight – just like how you'd choose the fit of a wristwatch.
Accessories for men shouldn't be limited to functional pieces like watches and links. Wearing jewelry on your wrists allows you to show your personality without being too loud – giving off a subtle expression to showcase your style and who you are.
If you want top quality bracelets for men that are sure to match any of your looks, Azuro, company that specializes in handmade accessories for men have a range of stone bracelets that look great on both formal or casual looks.
From Azuro, we will learn more about bracelets crafting of stone bracelets.
The Art Of Stone Bracelets Crafting by Azuro Republic
1. Sketch
Azuro Republic start creating outstanding natural stone bracelets with a sketch. The sketch will include all the information, then illustrated in digital 3D. The top priority in the beginning is by making 3D design from 2D. Don't forget about materials, Azuro choose materials depends on the situation, including wax or resin.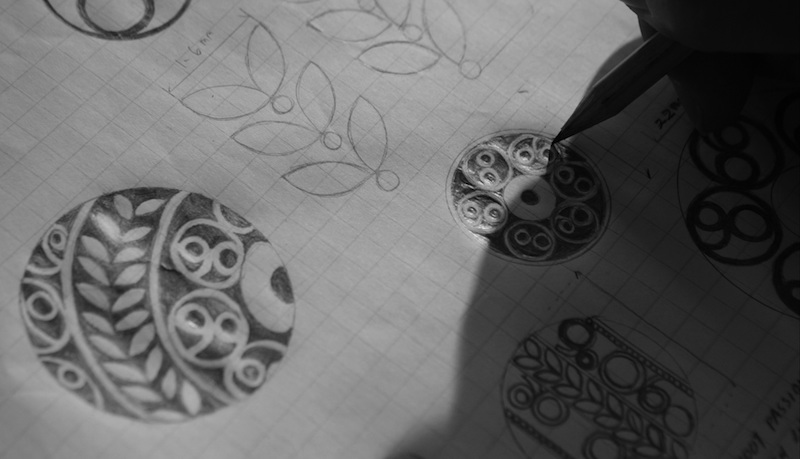 2. 3D Design
After making 3D design, they bring it into fruition via 3D printing and proceed to create a wax tree. A wax tree is a setting with spruing that will be needed for the casting phase. After that, they will mix plaster with the wax tree by using mixing machine. The process ensures that the quality of Azuro stone bracelets end up being top-notch. You can't do those steps without precise and accurate measurements to achieve proper mixing and balance.
3. Silver Casting
Another important steps, by pouring liquid silver into the dried and empty casting mold. This is where the key parts of the stone bracelet actually start taking shape.
4. Injecting Wax into the Rubber Mold
They need to inject the right amount of wax, and don't get wrong, its very complex! I can say that injecting wax into the rubber mold is an integral part of the casting process.
5. Repeating And Finishing Touch!
After all of those steps, Azuro need to mix plaster with the wax tree, and again, we will have to go through the wax losing step as well. Again and again!
What you need to understand here is that they do almost everything manually, and done by hand. It gives unique dimension compared to other companies out there. Azuro Republic's stone bracelets are not merely accessories that serve as a fashion statement or make you look better. They symbolize your values, drive, and passion and serve as a constant source of motivation and encouragement. This goal requires a personal touch and that's exactly what they want to accomplish.